Why do I use and love TechSmith's Snagit software so much? Would you love it too? I am going to try to explain the first and give you information to decide on the second.
What is Snagit?
Simply put, it's screen capture software. Sure, you already have that in your operating system. But SnagIt does so much more – it makes that screen shot easy and useful. You can easily draw on it, type notes on it, note the steps you want to explain to someone. Then you can paste all of that – notes and all – into an email or Facebook or where ever. You can also save it as a .png file and just insert it where ever – Word, WordPress, anywhere.
Screen Captures with Annotations
While I use Snagit mostly to make useful instructions for people to do a step in some sort of software that is giving them fits, it's useful just for fun too. Here's a favorite example of mine. Yes, she will turn my computer off if I don't feed her enough. As a result, she weighs several pounds more than she did in this picture.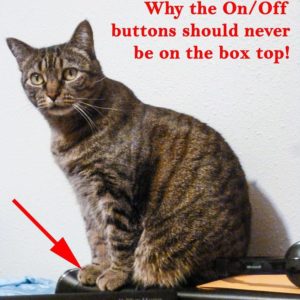 Video Capture
Snagit also offers video capture in recent versions. I was floored when they added that huge new feature. You can't edit that video in here but come on, this is $49 software and it was a great value before they added video capture.
TechSmith does make really cool video editing software, Camtasia. If you want to be serious about making videos, it's very useful software. Easy, powerful. Once I get better at it, maybe I'll write about it too.
Why I Love Snagit
It's easy. Yes, that is important to me too. Easy means efficient and that's why I use software. The little image above took 2 seconds with SnagIt. I could have done the same thing in Photoshop but it would have taken me too long.
While SnagIt has a lot of features that I haven't bothered to use, you don't have to spend a bunch of time to get it going. I've had an insane number of laptops that haven't worked out for me lately. Boy, am I glad this software is easy to install and set up because I have done it a lot!
(Adobe could learn a lot from TechSmith. Just sayin.)
What I really use it for
Obviously, I like to use Snagit for funny things. Notes on cat pics and things like that. Who wouldn't?
Snagit Helps Me Help People
Much more importantly, I can answer a question or write a tutorial for a client much more effectively with notes on screen grabs. This site is full of Snagit screen graps, especially in the Quickbooks sections. Quickbooks is cluttered software and it can be hard to find the thing you need to click on. I can take a quick screen grab, circle the place you are looking for, paste it into an email and you are no longer stuck.
Snagit Helps Me Remember Things
I use it to document things too. It's helpful with those weird little things. You can grab a shot of a login screen, type the password you just reset and you have a record of your password. Buy something on a craigslist ad and you are concerned will be deleted but you want a record? It's just hard to think of all the options. If it's on a computer screen, you can grab it and save it.
Snagit – Great Screen Capture App – and More
I really hope I've adequately explained why Snagit is useful software. Maybe some who read this will realize it is a worthwhile investment for them too. It might be the best return on investment in my start menu.